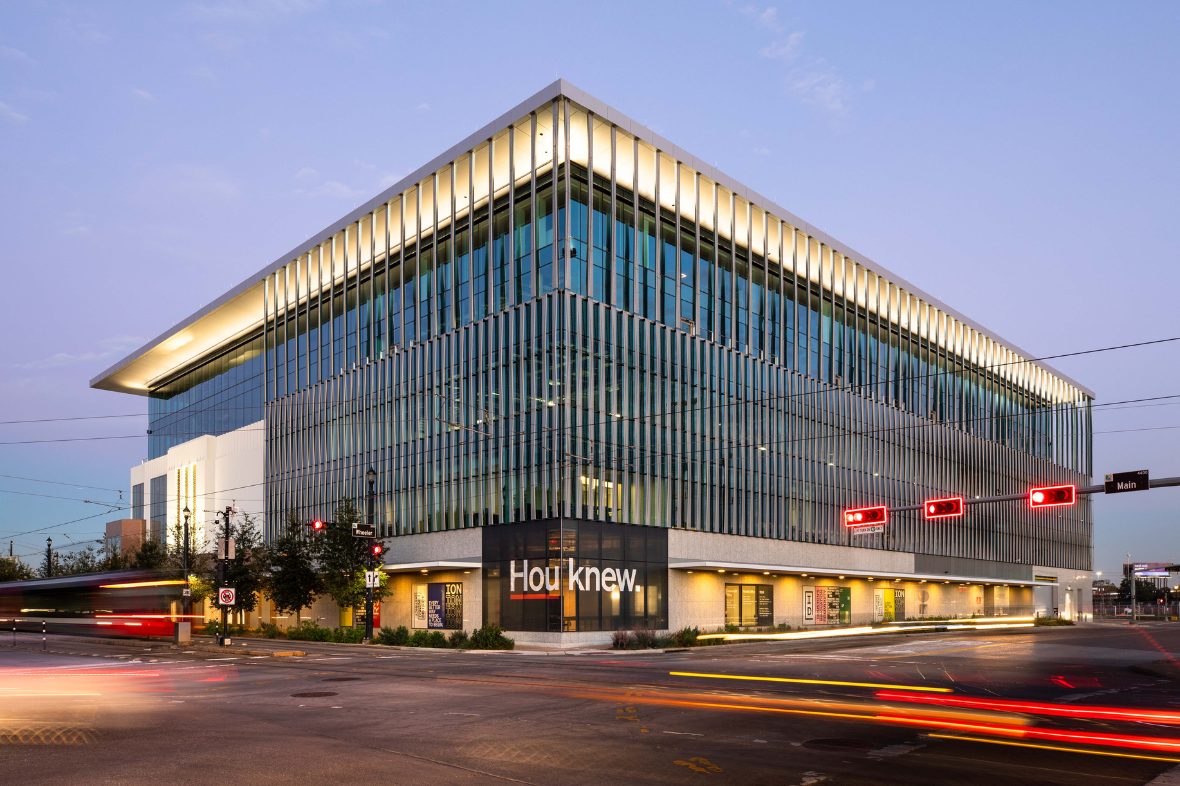 Rice Management Company Announces Common Desk Expansion at the Ion
by Ion
Rice Management Company (RMC) and the Ion, Houston's innovation hub, announced they have expanded their partnership with Texas-based flexible office space provider Common Desk to the Ion's fourth floor. This adds another 28,000 square feet to Common Desk's largest footprint and solves a need for Houston-Galveston area entrepreneurs and startups seeking flexible workspace.
Today's work environment demands more flexible space. The Ion's growing partnership with Common Desk is a testament to the collaborative, intentional, and creative environment the Ion and Common Desk have created for teams in Houston looking to scale and grow. The Ion's flexible office space operated by Common Desk houses innovative companies from a diverse mix of industries and organizations of all sizes, including Liongard, Koda Health, Ampersand, BP Ventures, Dow, Houston Freedmen's Town Conservancy, Haliburton, HX Venture Fund, Capital Factory, BikeHouston, and SLB Innovation Factori.
"When people work in an inspiring place that fosters community, going into work is exciting. The Ion's experience with Common Desk proves it," said Jan E. Odegard, Executive Director of the Ion. "This rapid expansion signals that the Ion is the place to be for growing organizations, and we will soon be releasing new programs that expand our value proposition for startups, investors, corporations, academic institutions, and the community."
Since it opened in the Ion in August 2021, the largest of Common Desk's flexible work spaces has also become the company's best-performing property. The space has reached full occupancy in less than one year and now is managing a waiting list. This new combined space spans 86,400 square feet, with more office suites sized for Houston's rapidly growing start-up ecosystem.
Accessible design, flexible office solutions, and extensive amenities like an in-house Fiction Coffee bar and conference rooms make returning to the office more attractive. But what distinguishes this space from other flexible work spaces is proximity to the Ion's roster of worldleading innovators Chevron Technology Ventures, NASA, Microsoft, Houston Methodist, and others, plus a host of free programming for entrepreneurs and start-ups provided by the Ion team and its partners. Flexibility for teams to expand seamlessly into larger suites or longerterm leases within the Ion or to future buildings in the Ion District also contributed to the space's success.
"The Ion and Common Desk have created a truly unique and dynamic environment for entrepreneurs, startups, and corporations of all sizes," said Joe Alapat, CEO and Founder of Liongard. "The flexible space has become an important hub of Houston's booming innovation ecosystem, and we're thrilled to see new members participating in regular events and rich programming. I'm glad to be a member of this community and look forward to leveraging the expanding footprint."
Head of Real Estate for Common Desk, Dawson Williams, credited RMC for trusting the flexible work space provider to "build a vibrant space that fuels collaboration, innovation, and community. With RMC's support, we created a thoughtful design, along with the amenities and memberships offered," he said. "One year later, this space in the Ion is a game-changer for Houston's innovators. It's exciting that we're already expanding because so many rapidly growing companies want to be inside the Ion and experience everything it has to offer."
Ryan LeVasseur, Managing Director of Direct Real Estate at RMC, said together with Common Desk, the Ion has created an appealing "ecosystem within an ecosystem" fueling the growth of Ion District. "We look forward to more exciting developments in Ion District next year, and we are grateful for partners like Common Desk President Nick Clark and Dawson Williams. They both share our vision for a more collaboration-fostering and human-engaging built environment," he said. "The Ion is Houston's home of innovation, and it is the catalyst for RMC's further investment in building out the Ion District," LeVasseur added.
According to Barbara Burger, Corporate Graduate, Energy Director, Innovator and Advisor, "People from firms of all sizes respond positively to physical spaces designed to promote connection and collaboration; they are integral to advancing toward a more diverse and inclusive workplace. So much of a firm's strategy rests on its talent – as individuals and of the collective — there is much to be gained by being part of an innovative community in the center of the most diverse city in the United States."
In addition to the Ion's growing list of esteemed innovators, the Ion is home to best-in-class, innovative culinary talent, including Second Draught, The Lymbar, Common Bond On The Go, and soon to open Late August.
Those interested in joining the Ion ecosystem can learn more here.
About Rice Management Company: Rice Management Company (RMC) is responsible for stewardship of Rice University's endowment and was established to provide a perpetual source of revenue for current operations and certain capital needs. Rice University serves its mission by cultivating a diverse community of learning and discovery that produces leaders across the spectrum of human endeavor. RMC's teams bring decades of investment management expertise across diversified industries and financial specialties. https://www.rice.edu/
About the Ion
Ion: Where ideas go to grow. Located in Ion District, the namesake building is the transformative centerpiece of Houston's innovation corridor. Designed to bring our city's entrepreneurial, corporate, and academic communities into collaborative spaces and programs, the sunlit structure of steel and glass is a home for advancing diverse knowledge, teams, technologies, and products that propel our world forward. From Fortune 500s seeking flexible office space to first-time startups looking for the funding to design a prototype, the Ion provides wide-reaching space and support to connect every What if with What now?—welcoming individuals and teams of all kinds to a place to build a better way.
About Common Desk: Common Desk has been crafting an original workday experience for its members since 2012. It currently serves thousands of professionals across its network of flexible office locations, cultivating a thriving community of freelancers, small businesses, fast-growing tech companies and enterprise businesses. Common Desk's workday brand portfolio also includes Fiction Coffee, adding to the customized amenities that enhance workdays for members and guests alike. Common Desk was acquired by WeWork in 2022, becoming the first coworking brand bought by the global company. For more information, visit thecommondesk.com.