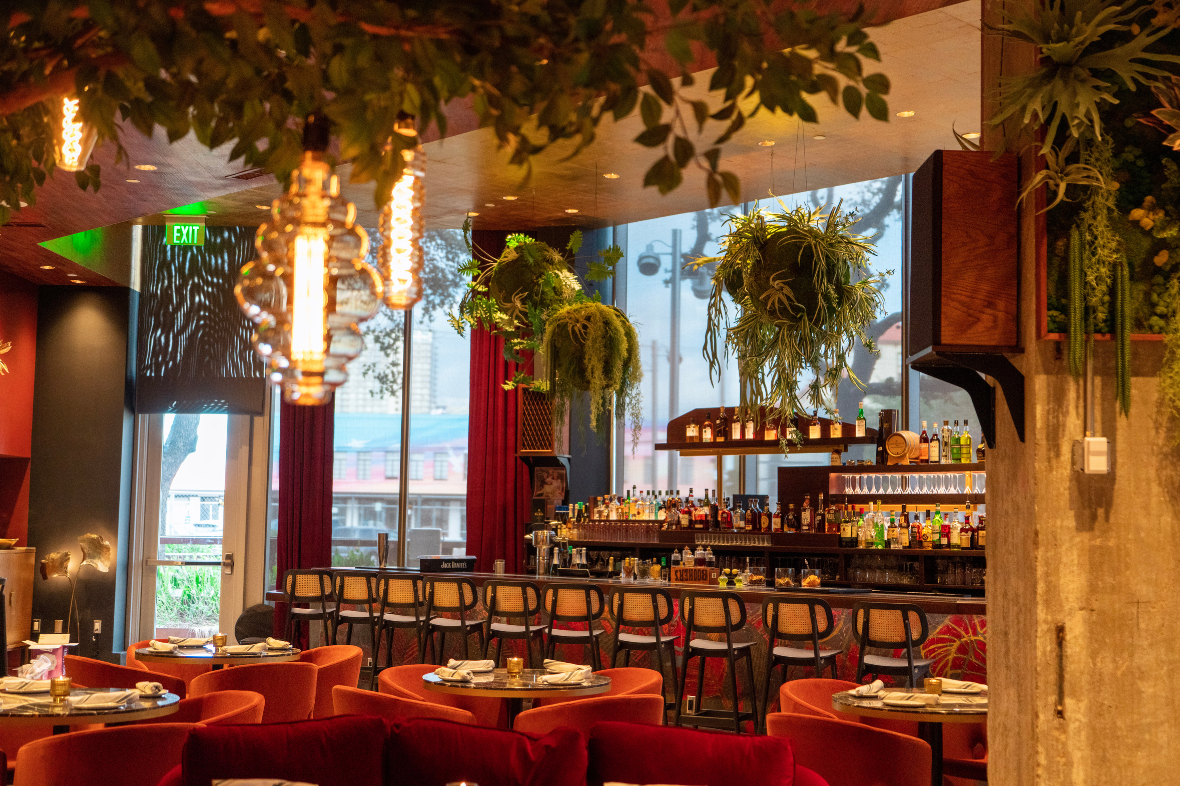 Chef David Cordúa's The Lymbar now open at the Ion
by Ion
The Lymbar, Chef David Cordúa's all-day restaurant, bar, and lounge at the Ion (4201 Main St.), is now open. The highly anticipated Latin-Mediterranean concept will offer a rotating daily menu through the end of the year, with an evolving selection of dishes and cocktails. Named after Lymbar Drive, the Meyerland street where Cordúa's grandparents settled in Houston from Nicaragua, The Lymbar celebrates the Cordúa family history in Houston – which began with the diverse neighborhood where he grew up.
"The Lymbar is my grandmother's house," Cordúa said. "It's a tribute to all grandmothers. Mine liked well-worn paperbacks, crossword puzzles, rich food, and whiskey. Copies of 'Where the Wild Things Are' were always around. The house stayed in our family, and it's where we perfected our family's hospitality. The Lymbar is the distillation of our heritage."
Cordúa was raised on Lymbar Drive as his father, chef Michael Cordúa, introduced Houston to a new world of Latin flavors with the nationally acclaimed Churrascos and Americas restaurants. A graduate of Le Cordon Bleu in Paris, David returned to Houston after culinary school and worked alongside his father for more than a decade. The Lymbar is his debut solo restaurant. Michael is working as part of the management team, with executive chef Adolfo Lopez, Jr. (Brenner's on the Bayou, Uchi, Churrascos) helming the kitchen.
Menu standouts include corn-smoked lamb chops on a fluffy bed of tangy couscous tabbouleh; pan-seared snapper with saffron arroz a la tumbada with chorizo emulsion; build-your-own beef tenderloin tacos arabes with tahini and chili bomba; and a ground beef Kofta Burger with tzatziki. Starters include Truffle 'Twinkies', popcorn-style Chicken Chicharrones and Sweet Potato + Beet with labneh. Salads are highlighted by a Kale + Peanut with mint and cilantro and Cucumber + Chickpea with feta. A playful selection of empanadas includes the Monte Cristo with smoked turkey, ham, gruyere and raspberry sesame vinaigrette. Desserts include Sweet Corn Flan and Foie Gras Donut Holes.
Longtime Cordúa fans will recognize the Churrasco – an 8-oz. center-cut beef tenderloin with chimichurri, pickled onion, and bernaise – and signature vanilla-laced Tres Leches. Another dish, the Stuffed Chicken Ballotine, is a nod to a chicken with sherry cream sauce that Michael used to make for David after school at the original Churrascos.
The Lymbar's sturdy cocktail list – led by bar manager Sean Stapleton – features impressive renditions of the staple Singapore Sling and Old Fashioned, rubbing shoulders with the delicate Kermit's Lilly and gin-laced Wild Rhubarb. A wine bar-style wine list with approachable offerings from France, Italy, Spain, and South America rounds out the menu.
A crucial part of bringing The Lymbar to life was Gin Braverman of Gin Design Group, who was David's childhood babysitter on Lymbar Drive. The 4,000-square-foot restaurant's design fuses futurism with familiarity, drawing inspiration from Cordua's upbringing. An innate sense of warmth is felt upon entering the dimly-lit, jewel-toned space.
"We wanted to capture the bustle of a hotel lobby, the polish of a private club and the hospitality of the Cordúa family in the design," Braverman said. "Mixed with a confluence of Latin American, Lebanese, and Mediterranean textures and art layered over a backdrop of classic mid-century materials such as warm woods, earthy colors, and lush greenery."
The Lymbar is open at 11 a.m. on weekdays and 5 p.m. on Saturdays, closed on Sundays during its initial opening phase. It has seating for 120 guests – including 10 at the bar, 10 at the chef's counter, and a 12-seat private dining room – and will feature live music on select nights.
"The Ion is a forward-thinking multi-industry tech hub, and we found a way to recreate a distinct, analog time in our lives in the middle of it all," Cordúa said. "It's the hearth and living room of the Ion. A few floors up, there may be a groundbreaking app being developed, while downstairs, we are reminding guests of a pre-digital world full of physical connection. We want The Lymbar to be like the best house party you've ever been to."
About The Lymbar
The Lymbar is an all-day restaurant, bar, and lounge with Latin and Mediterranean flavors from chef David Cordúa, located at 4201 Main St. inside the Ion in Midtown Houston. Serving up culinary delights and exquisite libations, The Lymbar crystalizes the Cordúa family's legacy as ambassadors of flavor and hospitality for a whole new generation of discerning Houstonians. For reservations, visit OpenTable or call (713) 485-6230. www.lymbar.com .
About the Ion
Ion: Where ideas go to grow. Located in Ion District, the namesake building is the transformative centerpiece of Houston's innovation corridor. Designed to bring our city's entrepreneurial, corporate, and academic communities into collaborative spaces and programs, the sunlit structure of steel and glass is a home for advancing diverse knowledge, teams, technologies, and products that propel our world forward. From Fortune 500s seeking flexible office space to first-time startups looking for the funding to design a prototype, the Ion provides wide-reaching space and support to connect every What if with What now?—welcoming individuals and teams of all kinds to a place to build a better way.