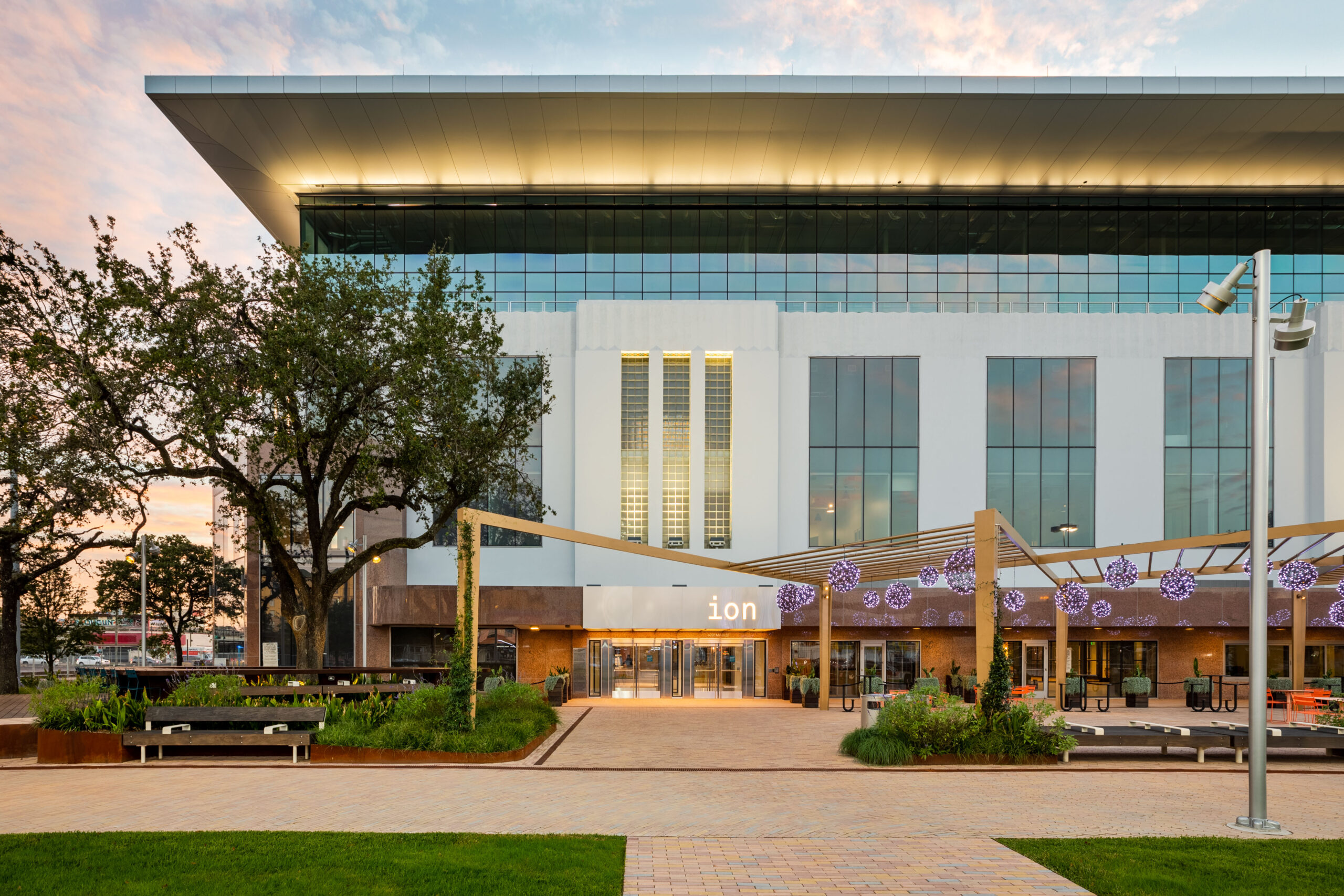 Ion Welcomes Occidental, United Airlines, and Woodside Energy as Corporate Partners
by Ion
Ion, Houston's innovation hub, today announced the addition of its newest corporate partners: Occidental (Oxy), an international energy company providing reliable energy solutions and products for a lower-carbon world, United Airlines Ventures (UAV), the venture fund of United Airlines focused on sustainability, and Woodside Energy (Woodside), a global energy company providing affordable, reliable, and lower-carbon energy to support a successful energy transition. 
UAV, Oxy, and Woodside will share expertise and industry leadership in support of Ion's mission to transform Houston into a global innovation ecosystem and further empower the city's workforce. The partners will participate in Ion programming and engage with its network of corporations, academics, and entrepreneurs to help develop and commercialize solutions to emerging issues in their respective industries. Additionally, industry leaders from UAV, Oxy, and Woodside will serve on the Ion Leadership Advisory Roundtable. 
"Welcoming our newest partners into Ion's ecosystem is a further testament to our momentum in the aerospace and energy transition," said Jan E. Odegard, Executive Director of the Ion. "Each organization brings their own culture of innovation that aligns with what we are doing at the Ion. We're excited for the relationships and advancements they will bring to our community." 
For more than 100 years, Houston-based Oxy has developed assets, infrastructure, and technology in the energy industry. It now leverages its resources, innovative technologies and 50+ year legacy of carbon management to accelerate its pathway to net zero and help others do the same. With Ion, Oxy has a unique opportunity to cultivate ideas, foster relationships, inspire employee engagement, and uncover a breadth of innovation and thought leadership.
"A partnership with Ion is a natural fit for Oxy in many ways," says Jeff Simmons, Senior Vice President, Chief Petrotechnical Officer for Oxy. "As Oxy innovates for a lower-carbon future, we look to partner with communities and organizations that are similarly focused on technology and climate-related goals." 
Founded in 2021, UAV is committed to improving the travel experience for customers by investing in companies and technologies that can decarbonize air travel. The team is excited to meet and collaborate with corporations across industries to accelerate research and production, and prioritize new technologies, particularly those associated with sustainable aviation fuel. 
"As a company deeply committed to both innovation and the city of Houston, United shares the Ion's vision to inspire collaboration and creativity and is proud to join the Ion's network of entrepreneurs," said United Airlines Ventures President Michael Leskinen. "We believe the Ion will be the epicenter for Houston's rapidly growing innovation community – a one-stop-shop to share ideas, foster startups, and to develop relationships with Houston's brightest companies and academia."
With over 65 years of experience, Woodside provides energy the world needs to heat and cool homes, keep lights on, and support industry. By partnering with the Ion, Woodside is opening doors to new innovations that will drive a successful energy transition in Houston and beyond.
"Woodside was founded with a spirit of innovation and determination," said Woodside Executive Vice President Technical Services and Chief Technology Officer Daniel Kalms. "The same ideals drive the Ion, and we're excited to exchange ideas, find creative solutions, and explore new ways to forge a better future as part of a like-minded community."
As partners, UAV, Oxy, and Woodside will not only have access to Ion's dynamic spaces, cutting-edge amenities, and educational resources, they will also have immediate opportunities to meet and collaborate with leaders and innovators from all industries and backgrounds to advance their own corporate goals. 
UAV, Oxy, and Woodside join Ion's current roster of corporate partners, which includes Chevron, Microsoft, Baker Botts, Aramco Americas, ExxonMobil, BP, Intel, Transocean, and Global Custom Commerce (GCC). The close proximity to these industry players across aerospace, energy and energy transition, technology, and innovation, and up-and-coming startups and founders within the Ion is what distinguishes the Ion from other buildings in the region.
About the Ion:
Located in Ion District, the namesake building is the transformative centerpiece of Houston's innovation corridor. Designed to bring our city's entrepreneurial, corporate, and academic communities into collaborative spaces and programs, the sunlit structure of steel and glass is a home for advancing diverse knowledge, teams, technologies, and products that propel our world forward.
From Fortune 500s seeking flexible office space to first-time startups looking for the funding to design a prototype, the Ion provides wide-reaching space and support to connect every What if with What now?—welcoming individuals and teams of all kinds to a place to build a better way. 
About Occidental:
Occidental is an international energy company with assets primarily in the United States, the Middle East and North Africa. We are one of the largest oil producers in the U.S., including a leading producer in the Permian and DJ basins, and offshore Gulf of Mexico. Our midstream and marketing segment provides flow assurance and maximizes the value of our oil and gas. Our chemical subsidiary OxyChem manufactures the building blocks for life-enhancing products. Our Oxy Low Carbon Ventures subsidiary is advancing leading-edge technologies and business solutions that economically grow our business while reducing emissions. We are committed to using our global leadership in carbon management to advance a lower-carbon world. Visit oxy.com for more information.
About United:
United's shared purpose is "Connecting People. Uniting the World." From our U.S. hubs in Chicago, Denver, Houston, Los Angeles, New York/Newark, San Francisco and Washington, D.C., United operates the most comprehensive global route network among North American carriers. United is bringing back our customers' favorite destinations and adding new ones on its way to becoming the world's best airline. For more about how to join the United team, please visit www.united.com/careers and more information about the company is at www.united.com. United Airlines Holdings, Inc., the parent company of United Airlines, Inc., is traded on the Nasdaq under the symbol "UAL". For further information about our environmental impact, review United's Corporate Responsibility Report and Annual Report on Form 10-K, available at crreport.united.com and ir.united.com.
About Woodside Energy: Woodside is a global energy company, with oil and gas assets and interests in Australia, the US, Mexico, the Caribbean, Senegal and Timor-Leste. Woodside aims to thrive through the global energy transition with a low-cost, lower-carbon, profitable, resilient and diversified portfolio. In addition to its LNG, natural gas and oil assets, Woodside has a growing portfolio of carbon services (offsets, carbon capture and storage, carbon capture and utilisation), hydrogen, ammonia and renewable power opportunities in Australia and internationally. Our new energy opportunities include the proposed H2OK hydrogen project in Oklahoma and the H2Perth and H2TAS opportunities in Australia. For more information, visit www.woodside.com