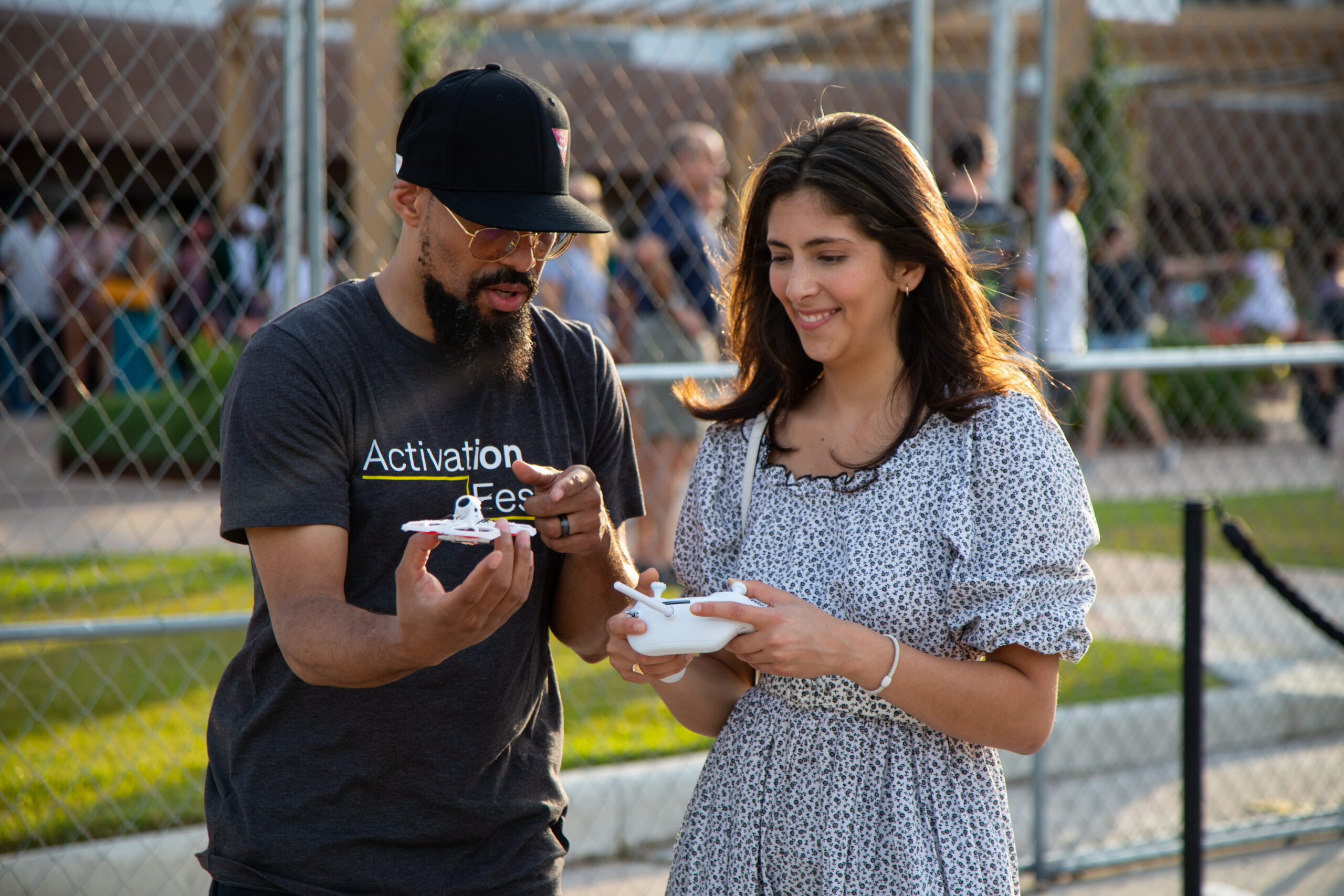 Ion District Announces Second Annual Activation Festival
by Ion
Events designed to engage the community, showcase entrepreneurial talent, and celebrate the District's expanding technology ecosystem
HOUSTON, MAY 8, 2023 – Ion District, Houston's 16-acre innovation district, alongside its developer Rice Management Company, announced today its second annual Activation Festival is taking place May 17-19, 2023. Similar to last year's inaugural event, which had more than 2,500 attendees, Houstonians and visitors of all backgrounds are invited to attend engaging and interactive programming, explore the Ion's dynamic spaces and cutting-edge amenities, and learn about the myriad of available educational and upskilling opportunities. 
Admission is free but registration is required here. 
"Activation Festival continues to be a perfect showcase for the innovation, technology, entrepreneurial spirit, and collaboration that exists in Houston," said Jan E. Odegard, Executive Director of the Ion. "We're thrilled to be celebrating how Ion District sparks ideas and drives growth across Houston's industry and communities. I hope to see both familiar and new faces throughout the three days."
Activation Festival's thoughtfully curated events drive the Ion and Ion District's purpose for transforming and strengthening Houston's economic resilience, and creating opportunities for  easy access to economic opportunities in the innovation and tech-enabled industries. The events will provide attendees the opportunity to experience businesses, networking, and programming that highlights and celebrates Houston's vibrant entrepreneurial, academic, startup and corporate innovator communities. 
"Activation Festival gives an up close and personal look at how Ion District is harnessing Houston's sprawling talent and innovation to endure as a tech hub, an industry thought leader, and a global economic force," said Bryson Grover, Investment Manager, Direct Real Estate, Rice Management Company. "This flagship event will inspire people to experience Ion and Ion District, where we're already working together to build solutions and solve real problems every single day." 
Events are open to the public and will primarily take place at the Ion, located at 4201 Main St, with a few events occuring in the nearby surrounding District area, including Greentown Labs Houston, located at 4200 San Jacinto St. 
The line-up of key events can be found below. To register, please visit Ion's event page here. We encourage you to register for all the programs but registering for one event will get you a pass for the full three days. Some venue space will be limited, and access will be first come first seated.
Wednesday, May 17, 2023
Engage VC (9:00 am – 10:00 am CDT)

– Led by

HX Venture Fund

, in partnership with Ion and

Scale Ventures

, this event focuses on how to utilize intelligent business software to move from founder-led growth to a repeatable go-to-market machine. 

Ion Prototyping Lab + Nexus: Robotics Day (9:00 am – 5:00 pm CDT) –

Join the

Ion Prototyping Lab

and Rice's Nexus Lab for a day of robotic displays, discussions, and lab tours.

Corporate-Startup Partnerships: How to Build Them, Sustain Them, and How They're Key to Fast-Tracking Innovation and Growth (11:00 am – 12:00 pm CDT)

– A panel discussion with

Halliburton Labs

,

ExxonMobil

and

TMCx

, moderated by law firm

Baker Botts

, on the importance of disruption to develop new technologies, and the role that corporate-startup collaborations play in innovation. 

ChatGPT Panel: Love It or Hate It: Exploring the Transformative Power of ChatGPT (2:00 pm – 3:00 pm CDT)

–

This panel deep dives into ChatGPT, an artificial intelligence chatbot, including how it can be used and its pitfalls. 

Common Desk Happy Hour (3:00 pm – 5:00 pm CDT)

– An event to connect with like-minded professionals, expand your network, and discover the many benefits of working at Common Desk – Ion.

What's Next, Now: Ion District Showcase (5:00 pm – 7:00 pm CDT)

– Featuring startups and corporations from Houston's key industries, including healthcare, energy, finance and technology, that will showcase their innovative solutions and products that are transforming the way we live and work.
Thursday, May 18, 2023
Workforce Development with Per Scholas (9:00 am – 10:45 am CDT)

– Led by

Per Scholas

, this panel and workshop brings together industry leaders, experts, and innovators to explore the critical role of workforce development and training in building a robust tech industry – from the latest trends in upskilling and reskilling to best practices for creating a diverse and inclusive workplace.  

Ion Prototyping Lab + Nexus: Open Innovation Day (9:00 am – 5:00 pm CDT) –

Join the

Ion Prototyping Lab

and Rice's Nexus Lab for a day of innovative displays, discussions, and lab tours.

Entrepreneurship as a Business Style by Hap Klopp, Founder of The North Face (11:00 am – 12:00 pm CDT)

– This keynote speech features Founder and former CEO of The North Face,

Hap Klopp

. Klopp will speak to why he believes entrepreneurship is a mindset that must be employed by all businesses to ensure their vitality. 

Back to the Future of Innovation (2:00 pm – 3:00 pm CDT)

– This discussion focuses on how the Office of Innovation at Rice University is creating game-changing tech startups at speed and scale through public-private partnerships between industry, government, and the broader academic community. 

Innovation on Tap: EntrepreNeuro (5:00 pm – 7:00 pm CDT)

– In partnership with Ion, and part of the

InterfaceRice 2023 conference

, EntrepreNeuro features three presenters who will discuss their personal experiences particularly during periods of transition. 
Friday, May 19, 2023
Cup of Joey – Ion District (8:30 am – 10:30 am CDT)

– This coffee shop networking event is taking place both at the Ion and Greentown Labs, serving up coffee from

Common Bond

; the event is an opportunity to meet new connections, expand current networks, talk tech, inspire innovation, and create community. All are welcome! 

Greentown Labs + Ion Activation Festival 2023 (8:30 am – 3:30 pm CDT)

– Hop over to Greentown Labs for Cup of Joey from 8:30 am – 10:30 am, food trucks from 12:00 pm – 1:30 pm, as well as a panel of thought-provoking speakers and a showcase of GTL's members at 1:30 pm – 3:30 pm. 

Ion Prototyping Lab + Nexus: Space Day (9:00 am – 5:00 pm CDT) –

Join the Ion Prototyping Lab and Rice's Nexus Lab for a day of innovative displays, discussions, and lab tours.

The Future of Space Tech by Douglas Terrier (11:30 am – 12:30 pm CDT)

– Featuring

Douglas Terrier

, Associate Director for Vision and Strategy at NASA's Johnson Space Center, this fireside chat, hosted by Alicia Llewellyn, Lead, Strategy and Formulation, Business Development & Technology Integration Office, NASA JSC, focuses on the future of space tech and what opportunities are ahead for startups and students.

SME Office Hours + Mingle Lounges (1:30 pm – 2:30 pm CDT)

– This networking event is an opportunity to meet

SCORE Houston

representatives and SMEs in marketing, storytelling, and pitch deck preparation, and network with other entrepreneurs, SMEs, researchers, corporates, and investors.

Ion Block Party: Innovation on DisPLAY (5:00 pm – 8:00 pm CDT)

– This community-wide party features a number of entrepreneurial local businesses showing off their dynamic technology on the Ion Plaza. Also includes food trucks and a special "battle of the bands" competition.
To learn more about Ion's offerings and how it can benefit you by signing up for the newsletter here. 
About Ion District: Houston's new innovation district takes our city's talent and sprawl and connects it all, harnessing Houston's potential to emerge and endure as a tech hub, a thought leader, a cultural core, and a global economic force. Twelve blocks built to encourage serendipitous collisions across all sectors and skill levels, and promote equitable businesses, products, and jobs in our image: ones that reflect our city's diversity of ethnicities and enduring individualism, our big-hearted tenacity and wildcatting audacity, our gumption and resilience come hell or high water. An invitation to build the world we want to see.
About the Ion: Located in Ion District, the namesake building is the transformative centerpiece of Houston's innovation corridor. Designed to bring our city's entrepreneurial, corporate, and academic communities into collaborative spaces and programs, the sunlit structure of steel and glass is a home for advancing diverse knowledge, teams, technologies, and products that propel our world forward.
From Fortune 500s seeking flexible office space to first-time startups looking for the funding to design a prototype, the Ion provides wide-reaching space and support to connect every What if with What now?—welcoming individuals and teams of all kinds to a place to build a better way. 
###