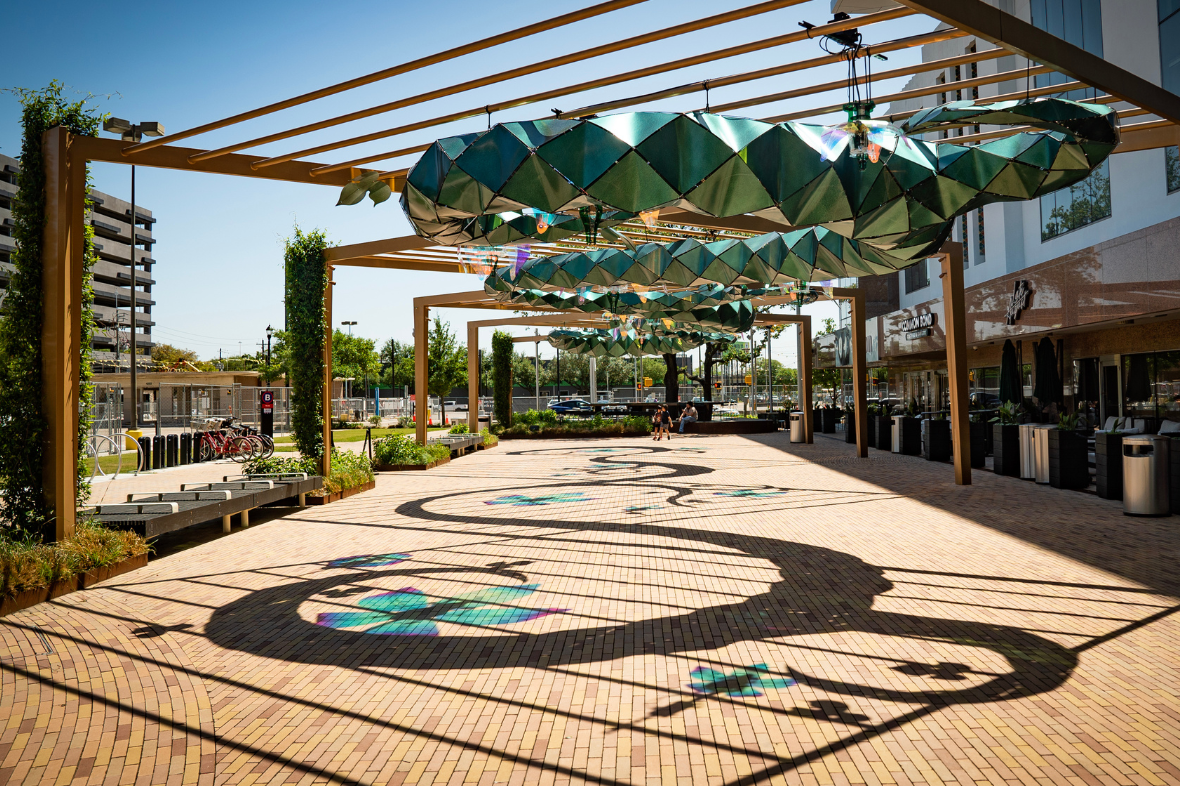 The Ion Expands Its Public Art Program As It Unveils Interactive New Plaza Installation, Efflorescence
by Ion
The Ion, Houston's innovation hub, has announced the expansion of its burgeoning public art program vis-à-vis the addition of Efflorescence, an interactive installation fabricated by the talented Austin-based artist team of Ilya Pieper and Whiptail Designs (Nathan Kandus) that is designed to instill the Ion Plaza with an immediate dose of vitality as visitors enter and exit the building. Now on display as Houston enters one of its most pleasant stretches of the year, Efflorescence will remain a fixture at the Ion for a three-month duration.
"I view the Ion's art as a living organism that is constantly evolving and changing," said Piper Faust, who oversees the Ion and Ion District's public art projects through her art consultancy, Piper Faust Public Art. She added, "With several pieces already in place that have greatly enhanced the Ion community from a visual perspective, I am now ecstatic to see Efflorescence come to life and serve as a natural outgrowth of the building's creative identity as it evolves into the anchor of the 16-acre Ion District over the course of the next several years."
Affixed to the Ion Plaza's trellis, Efflorescence consists of a snaking vine structure that is comprised of 3/16" twisted rod; negative space between the rod's different elements creates diamond patterns that are filled with metallic-green mica-painted plastic. Efflorescence's leaves are painted with a differently pigmented mica paint and are suspended from the weaving vine configuration. The installation also incorporates a number of flowers that are made from dichroic film, a type of film that transforms clear materials into those that possess color effects, thereby reflecting certain colors and allowing others to pass through freely. The dichroic film thus allows Efflorescence to continuously change color as each viewer changes position – in combination with the angle of the sun as it passes over the trellis.
Efflorescence's flowers are also subtly lit at night, emitting a phosphorescent glow; mounted spotlights along the edges of the trellis enhance nighttime viewing opportunities by bouncing light off of the reflective mica paint and dichroic film. Lastly, ten of the flowers attached to Efflorescence are larger in size and have a kinetic component; as visitors to the Ion pass underneath Efflorescence, proximity triggers signal flowers to bloom in an opening-and-closing pattern.
"Nature is the ultimate inspiration and reference point for the conceptualization and execution of Efflorescence," emphasized Ilya Pieper, one-half of the artist duo behind the installation. She added, "As avid plant lovers, Nathan and I are constantly in awe of the beauty and form that nature holds. In our backyard, we have a passionflower vine that grows each year. Watching the vine make its ever-persistent climb upward, forming beautiful flowers along the way which a multitude of creatures utilize, we saw a parallel to the ultimate vision of the Ion District – that being the establishment of a similar structure for people, their ideas, and their innovations."
The artist team behind Effloresence is the two-person duo of Ilya Pieper – a local Austinite and strong female figure in the Austin art scene – and Nathan Kandus, principal of Whiptail Designs, is a designer and fabricator who has focused on a number of community-based projects. Collectively, Pieper and Kandus have been working in the professional art world for over a decade, where their focus has been on cultivating engagement, interactivity, and community placemaking.
To date, the majority of the tandem's work in public art has focused on site-specific interactive experiences that inspire curiosity and tell compelling stories. Effloresence represents the pair's first project of significance in Houston.
About the Ion
Ion: Where ideas go to grow. Located in Ion District, the namesake building is the transformative centerpiece of Houston's innovation corridor. Designed to bring our city's entrepreneurial, corporate, and academic communities into collaborative spaces and programs, the sunlit structure of steel and glass is a home for advancing diverse knowledge, teams, technologies, and products that propel our world forward. From Fortune 500s seeking flexible office space to first-time startups looking for the funding to design a prototype, the Ion provides wide-reaching space and support to connect every What if with What now?—welcoming individuals and teams of all kinds to a place to build a better way.
About Ion District
Ion District is an intentionally accessible, walkable and integrated urban community. It spans 12 city blocks (16 acres) in Houston's Midtown, where people, ideas, and businesses thrive. Initiated by Rice University, Ion District energizes a more sustainable, resilient, and inclusive future. At actively programmed events and spontaneous everyday moments, Ion District invites residents, startups, corporate, academic, and civic leaders to unite, explore, and create opportunity together. For more information, visit https://iondistrict.com.
About Rice Management Company
Rice Management Company (RMC) is responsible for the stewardship of Rice University's endowment. The endowment plays a vital role for Rice. The distributions generated provide approximately 40% of the University's operating revenues, which makes it the single largest revenue source to the operating budget. The RMC team brings decades of investment management expertise across diversified industries and financial specialties. Through disciplined research and due diligence, we assess and pursue investment strategies that are aligned with the long-term risk/reward profile of the endowment. For more information, please visit investments.rice.edu.