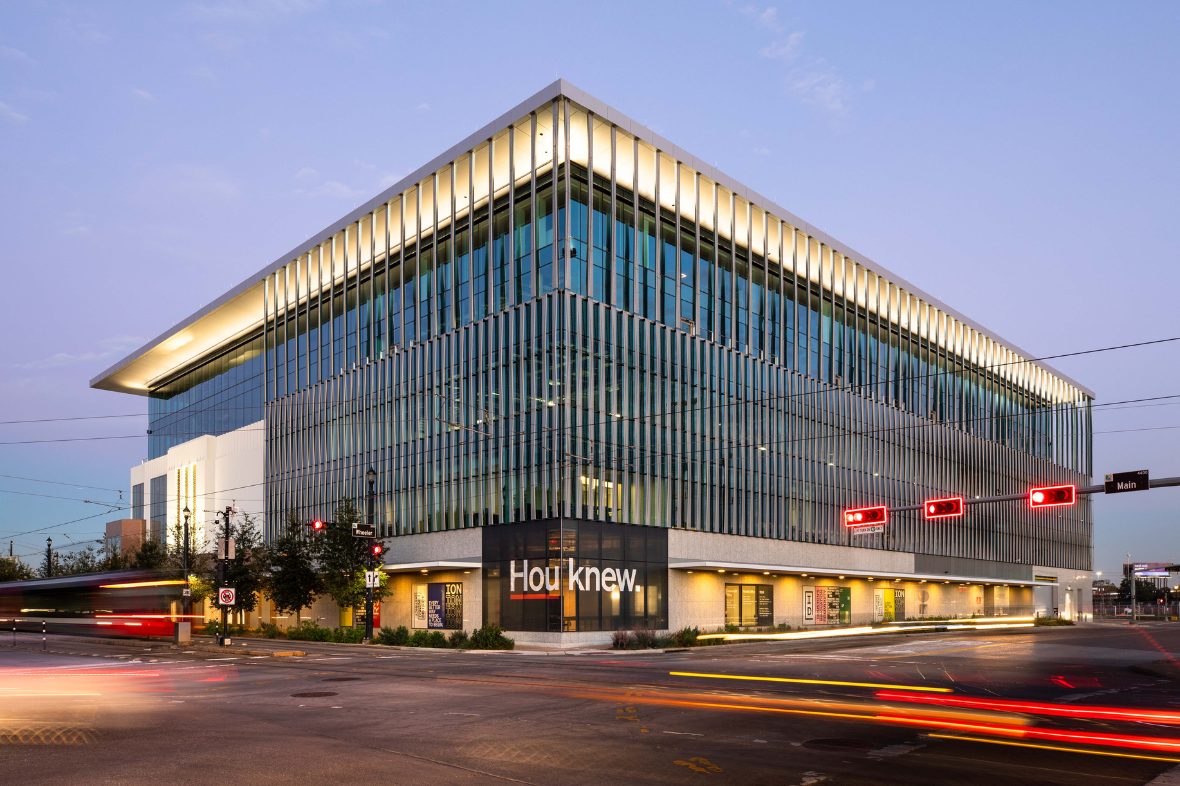 Ion District and Ion Share Update on Efforts to Expand Economic Opportunity in Houston
by Ion
Ion District, Houston's 16-acre innovation district, alongside its developer Rice University, recently released an update detailing the first year of implementing its Community Benefits Agreement (CBA). 
The legally binding Ion District CBA was approved by Houston's City Council in late 2021 and committed $15.3 million in direct investments and millions more in project-based opportunities over several years. It was designed to ensure Ion District development, including its innovation hub, Ion, benefits all Houstonians. This transformative agreement focuses on expanding tech sector job training and upskilling, preserving affordable housing, and creating more pathways for minority- and women-owned business enterprises (MWBEs) to be involved in Ion District. 
In tandem with the release of the report, Ion District also announced another achievement of the CBA with Ion's selection of Per Scholas as its workforce development partner. Per Scholas is a nationally recognized nonprofit that advances economic equity through technology skills training. Its proven, evidence-based training unlocks potential for individuals, companies, and communities. 
"Per Scholas is thrilled to join the Ion District and offer our tuition-free tech skills training in Houston," said Plinio Ayala, President and CEO of Per Scholas. "There is such synergy in our approach to innovation and equity. I'm confident that together, we'll increase opportunity and unlock potential for both individuals and companies that call Houston home. We're grateful for the warm welcome." 
In addition to Per Scholas, Ion District has facilitated contracting opportunities for Ion District Garage worth $16.9 million to 19 MWBE, among other milestones highlighted below.
 "The Ion District offers technology and connections that are unmatched to anywhere else in Houston," added Milton Thibodeaux, President – Greater Houston Business Procurement Forum, a community organization dedicated to convening small and minority businesses seeking opportunities. "It's generating more excitement and enthusiasm from new agencies, especially prime contractors and MWBEs. It's also connecting us to the right people, which leads to contracts, financing, and ultimately success stories."
Other accomplishments of the Ion District CBA detailed in the report include: 
Escrowing $5 million at

Unity National Bank

, the only certified Minority Depository Institution (MDI) in Texas which has allowed an increase in small business lending to help MWBE firms gain access to capital. 

Investing in women and minority tech accelerator and innovation programs, which included three

DivInc

accelerator cohorts, startups, and founders.

Commencing first year of funding for selected housing counseling providers which were: Fifth Ward Community Redevelopment Corporation, Houston Area Urban League and Tejano Center for Community Concerns, to serve the Third Ward, Kashmere Gardens, and Magnolia Park neighborhoods.

Opening multiple local restaurants at the Ion and in the Ion District, owned and operated by MWBE chefs and operators. 

Selecting a consulting firm to recommend strategic pathways to achieve MWBE objectives; conducting 10 public outreach events with over 500 MWBE firms attending. 

Hosting over 130 community-focused events, including Activation Festival, BlackStreet, and additional monthly programming and events accessible to the community. 
"I am enthusiastic about the benefits this unique agreement is creating in Houston, especially in areas of inclusive hiring, contracting and upskilling for those who have been historically overlooked and marginalized," said Mike Pittman II, Chairman of the Ion District CBA Advisory Committee. "The matching of art and science, as it relates to community benefits, in a rapidly changing built environment is a difficult and important undertaking. The thoughtful engagement that drove the CBA's development is helping strengthen Houston's position as a place where ideas can grow no matter who you are or where you are from."
More Community Investment Ahead
While the development is still in progress, Ion District is already a thriving innovation district helping to move Houston's economy forward. Today, Ion District is home to more than 300 businesses, including corporations, small businesses, and startups. 
In the coming year, Rice University will continue to implement the commitments set by the Ion District CBA including inclusive hiring, community capacity building, housing affordability and MWBE opportunities. This includes launching Per Scholas training, partnering with additional accelerators to support underrepresented founders and promoting contracting opportunities for the next phase of development. 
"We're committed to making Ion District and Ion a catalyst for opportunity, not just for the tech community but city-wide," said Sam Dike, who oversees the CBA's implementation. "We are proud of the progress thus far. It's a testament to the community stakeholders who came together to recommend the greatest areas of impact and need. However, this is just the beginning."
The full version of the community investment report can be accessed here via Ion District's community-focused website where the community can track the continued implementation of the CBA and stay engaged with upcoming opportunities.
About the Ion District
Houston's new innovation district takes our city's talent and sprawl and connects it all, harnessing Houston's potential to emerge and endure as a tech hub, a thought leader, a cultural core, and a global economic force. Twelve blocks built to encourage serendipitous collisions across all sectors and skill levels, and promote equitable businesses, products, and jobs in our image: ones that reflect our city's diversity of ethnicities and enduring individualism, our big-hearted tenacity and wildcatting audacity, our gumption and resilience come hell or high water. An invitation to build the world we want to see.
About the Ion
Located in Ion District, the namesake building is the transformative centerpiece of Houston's innovation corridor. Designed to bring our city's entrepreneurial, corporate, and academic communities into collaborative spaces and programs, the sunlit structure of steel and glass is a home for advancing diverse knowledge, teams, technologies, and products that propel our world forward.
From Fortune 500s seeking flexible office space to first-time startups looking for the funding to design a prototype, the Ion provides wide-reaching space and support to connect every What if with What now?—welcoming individuals and teams of all kinds to a place to build a better way.