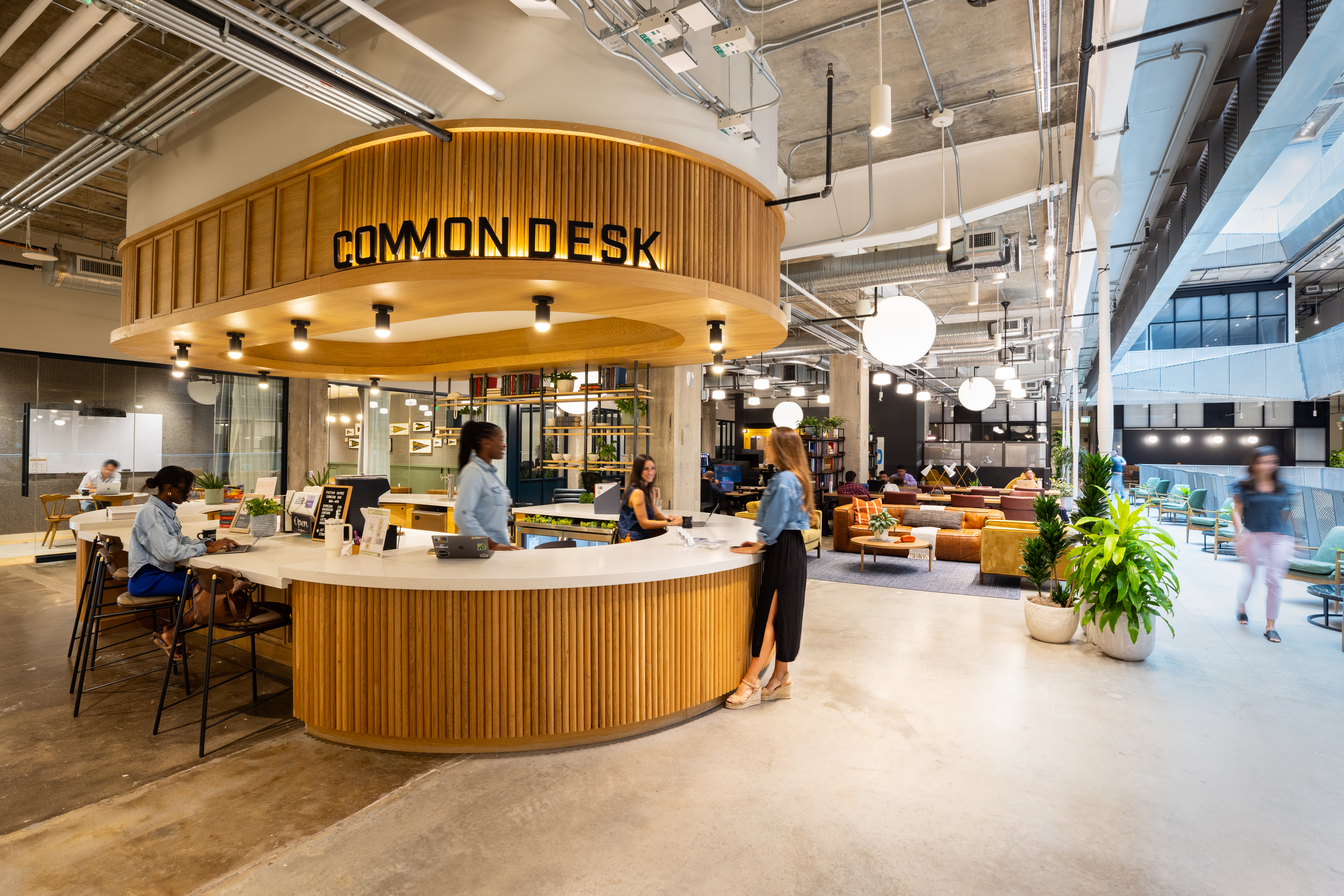 Common Desk's expansion at the Ion is now open for business
by Common Desk
DALLAS (November 13, 2023) – Common Desk, a flex office and coworking provider based in Dallas, has increased its footprint at the Ion, Houston's innovation hub, by nearly 50% this year.
Originally opened in August 2021, Common Desk – The Ion was the coworking company's third location in the Houston market, occupying the entire second floor of the Ion building at 58,400 square feet. The expansion agreement, which brings Common Desk's total footprint at the Ion to 86,400 square feet, commits Common Desk to ten years of additional space on the fourth floor. Tenants of the added space will have full access to the features and amenities that have made Common Desk – The Ion a success, including bottomless drip coffee and an espresso bar powered by Fiction Coffee (a workday brand of Common Desk), bookable conference rooms, expansive workspace, flexible terms, and eye-catching design. To learn more about the coworking and flex office operator, visit thecommondesk.com.
"The Ion team and Rice University have made Common Desk's first two years at the Ion a dream, and we're excited for ten more. This expansion of Common Desk at The Ion was designed specifically to complement the existing amenities and serve remote and hybrid work styles. There's a variety of video conferencing room types—from multiple individual private rooms, to a large group presentation-style room—all equipped with state-of-the-art technology that is also user-friendly. We doubled down on outfitting our space with more art from local artists and creative works that reflect the community. Altogether, we've built a range of workspace solutions to fuel creativity and productivity. We're confident that this addition to Common Desk – The Ion will effectively help us serve the innovative community of Houston." – Austin Gauley, Head of Design at Common Desk
"Common Desk's expansion at the Ion is a testament to the community and experience we've created here," says Jan Odegard, Executive Director, Ion. "Accessibility to connections and an array of amenities and resources continues to drive traffic for us, and we are thrilled to welcome the anticipated growth of new like-minded individuals coming to the Ion daily."
Common Desk has additional locations in the works in DFW, San Antonio, and Phoenix as they continue their expansion efforts across the country in selective assets.
ABOUT COMMON DESK
Common Desk operates a growing portfolio of experiential coworking locations across the United States, with additional offerings found through its landlord services. Through their unique operating approach, Common Desk has cultivated a thriving community of freelancers, small businesses, fast-growing tech companies and enterprise businesses since 2012. Common Desk's portfolio also includes an award-winning coffee brand, Fiction Coffee. For more information, visit thecommondesk.com.
ABOUT ION
Located in Ion District, the namesake building is the transformative centerpiece of Houston's innovation corridor. Designed to bring our city's entrepreneurial, corporate, and academic communities into collaborative spaces and programs, the sunlit structure of steel and glass is a home for advancing diverse knowledge, teams, technologies, and products that propel our world forward. From Fortune 500s seeking flexible office space to first-time startups looking for the funding to design a prototype, the Ion provides wide-reaching space and support to connect every What if with What now?—welcoming individuals and teams of all kinds to a place to build a better way.